INTRODUCTION
At the end of this document are a few notes that will make the reading easier. Please take a moment to look at those. Finally, I have also added a section on languages and vocabulary. I hope you enjoy these, too!
​
​
OUR SCOTTISH HISTORY
The story related here is a condensation of my research into the history of CRUICKSHANK. Some personal anecdotes will be given where appropriate. Sources will be cited wherever possible. History is interconnected with names, and often a name continues long-in-time after the situation causing the name has passed. Let's start with our name.
​
The NAME "CRUICKSHANK"
For all of us the name Cruickshank has been a curiosity-to-other-people, and even a-curiosity-to-ourselves.
​
PRONUNCIATION
​
One curiosity is the disparity between spelling and the pronunciation. I grew up in Winnipeg, Manitoba, Canada, and learned the pronunciation I still use, and passed onto my family. However, this is really an Anglicized way to say the name and in Scotland it is said much the same way it is spelled. That is, in Scotland you will hear the U and the I as distinct sounds. I know this from hearing Scottish people in Canada and from having traveled to Scotland in 2015. CLICK HERE to hear! So why was the pronunciation changed? Before we embraced multiculturalism in Canada, everyone just wanted to "fit in". That usually meant adopting the predominantly English way. Many stories abound in Canada and the USA about names being changed to seem more "English". This applied to not just famous people but to ordinary people as well. Hence the pronunciation with which we are most familiar.
​
​
SPELLING
​
Another curiosity is the several spelling variants. Thanks to Gord Cruikshank, in Canada, who has found, "The combination of Gaelic, English, and French speaking settlers, clergy, and census takers has resulted in some interesting variations in various census and church records. I have found Cruishank, Crushank, Croogshank, Crookshang, Crushank, etc. being used. There was even one census where the head of the household was simply listed as Cruikshang (no first name) and the wife/children were listed with the surname Shang."
Not surprisingly, due to pronunciation, people with the spelling Crookshank(s) will often say they are from England; or less often I have heard they are from Ireland. However, and this is a key point, everyone I ever met with our spelling traces their roots to somewhere in, or around, Aberdeenshire, Scotland. Not just Scotland but this very specific county! My Grandad (Frank) and Granny (Georgina nee Norrie) came to Winnipeg from the Aberdeen area. Apparently they lived on a small farm, north of Aberdeen, near the town of New Pitsligo, and the farm was called Grecie Hill. ("Pits" means a parcel of land in a Celtic language from Pictish times)
​
​
LOCATION
​
The website, Houseofnames.com says, "… we have determined that the Cruickshank name was first found [spelled] Cruickshank in Kincardineshire, a former county on the northeast coast of the Grampian region of Scotland, and part of the Aberdeen Council area since 1996; and "Cruickshank held a county seat in Kincardineshire from very ancient times."
​
In short, our name connects most often and strongly with 2 adjacent Shires in Scotland, Aberdeenshire and Kincardineshire (on this Map). Today, Kincardinshire is part of Aberdeenshire (current political map of council areas)
​
A shire is a county. In Manitoba, Canada we would say "municipality". Shires were often named after the largest town in the shire; Aberdeen and Kincardine in these cases. The old town and castle of Kincardine in Scotland, fell into decline in the 1500's and 1600's. The only visible sign of old Kincardine's existence is the small hill with stone ruins of Kincardine Castle, located 2 miles north-east of Fettercairn, near the hamlet of Phesdo. The old Kincardineshire area has been part of the Aberdeenshire Council Area since 1996. Incidentally Kincardineshire is also known as "the Mearns" which means "the Stewardry".
(We should not get confused with the current town named Kincardine in Scotland which is a small town on the north shore of the Firth of Forth in the Council Area of Fife. Neither think of the manor house named Kincardine Castle, built in the 1800's near Auchterarder, nor the existing, Kincardine Castle (built 1894), situated on Kincardine Estate (formed 1719), which is located 21 miles north of Fettercairn, and 0.62 miles east of the village of Kincardine O'Neil.
​
​
MEANING
​
I have long been curious about the meaning of our name. Apparently my grandfather, Grandad, (Frank John Cruickshank) (B1883-D1950) would say it means "broken leg" then recount a story about some man who fell off his horse while saving Bonnie Prince Charlie Stewart (B1720-D1788). This rescuer crooked his shank (broke or bent his leg) and the name stuck.
​
It is a well-known fact that in antiquity names were given to people for their occupations, their birthplace, and their notable deeds, among others. So the story Grandad gave has some credibility. In fact my research shows this to be a rather popular story so likely Grandad heard it from someone else first.
​
Another story I heard growing up was that the name Cruickshank had something to do with a river. As it turns out, this is the most likely explanation. For reference see http://forebears.co.uk/surnames/cruickshanks or click on this Word Doc
Passing through Aberdeenshire is the River North Esk, which begins in (the presently-named county/council area of) Angus and flows easterly into the North Sea, emptying 4 miles north of the town of Montrose. The North Esk has a tributary called Cruick Water. A small stream in Angus, the Cruick Water begins in the Parish of Fearn near Mowat's Seat in the Braes of Angus, flows south into the valley of Strathmore then east to join the River North Esk near the Kirk (church) of Stracathro, in Angus county.
Stracathro is located 7.4 miles south of Fettercairn. Cruick Water has a total length of 16 miles (26 km). A series of maps, tracing the Cruick Water is found when you CLICK HERE.
CLICK on underlined words for more information.
CLICK on underlined words for more information.
View of Cruick Water looking downstream. Photo taken from a bridge near Lochty
Mill of Blackhall driven by water from Cruick Water, constructed in 1686 or earlier, used to grind corn into the 1960's
Cruick Water is a very crooked stream, and hence its name, Cruick. The latter element "shank" is a topographical reference to a "projecting point of a hill joining it to the plain". The surname may thus quite well be of local origin: the shank on the Cruick or the Cruick-shank. Incidently, the Scottish Rivers North Esk and South Esk are two of the most prolific salmon and sea trout rivers in Scotland!
A similar explanation is given in an April 21, 2001 post by: Gordon Cowan Cruickshank, Oban Scotland. Born in Glasgow 23, January 1949, from father born Alexander Duncan Cruickshank in Eskdale, January 1906, and mother Mary Macauslan Whiting, born Burnside Rutherglen 1903. Both deceased.
Gordon says: (quote) "my fathers line comes directly from the river cruick & north esk region." "we were guardians of the stewart lands in the east of scotland..our name comes from the River Cruick, where we were given lands by the stewarts....the lands we occupied were on the banks of the River Cruick at the point where it meets the River Esk, Now commonly known as the North Esk.........the reason for cruick was the actual shape of the river, where it meets the shank (leg )of the River Esk....Please do not believe any other stories THIS IS the actual truth regarding my Birthname. CRUICKSHANK." (end quote)
The web site, HouseofNames.com, states, "The ancestors of the Cruickshank family lived at or near the Cruick River in Kincardineshire. The word shank means a point of a hill." and "…it is thought that the name was derived from a tribe which dwelt on the banks of the Cruick where the river bends,". For the PDF document about Cruickshank, from HouseofNames, CLICK HERE
So how far back can we trace our name?
​
1. The web site, Houseofnames.com, says, "Cruickshank was first used as a surname
by descendants of the Pictish people of ancient Scotland." The Picts were a tribal
confederation of peoples who lived in what is today eastern and northern Scotland
during the Mid to Late Iron Age and Early Medieval periods.
​
2. Combining Gordon Cowan Cruickshank and House of Names information, we find
people including: John Crokeshanks, burgess of Haddington (this is east of
Edinburgh), who rendered homage to King Edward I (Edward Plantagenet) of
England (B1239-D1307), in 1296, on Edward's brief conquest of Scotland (Bain, II,
p. 197). The Cruickshank family name flourished for the next two or three
centuries, and branched south from Aberdeen to Arbroath, and they owned (or
leased) the mill at Tybardy, and land in Aberdeen, Arbroath, and Murthlie.
3. Further name references include: Christin Crukschank who is mentioned in the
foundation charter of the chapel of Urchany (north west of Aberdeen), in 1334
(REA., I, p. 59), Cristinus Cru sank who was admitted burgess of Aberdeen in 1408
(NSCM., I, p. 3), and John Cru sank who was one of the burgesses of Aberdeen
selected to accompany the provost to the field of Harlaw, in 1411 (Fraser, p. 21).
Adam Crukshank was vicar of Crovdane (Cruden), 1414 (CAB., p. 381), the mill of
Tybardy was leased to Croyssaynt in 1434 (RAA., II, 70), and in 1452 there is entry
of payment to John Cruxschank in Aberdeen (SCM., V, p. 50). John Crukshanke
was granted 'the seruice of the keping of the orloge for the yer' in Aberdeen, 1453
(CRA., p. 20). John Crukshank owned a rood of land in the regality of Arbroath,
1535 (RAA., II, 816), Johannes Crushank is recorded in Murthlie, 1550 (Illus., II, p.
261), and John Crewshank or Crushank was a tailor in Aberdeen, 1688 (RPC., 3.
ser. XIII, p. 262,272).
​
4. For my immediate family, we have a family tree that goes back to 1590.
Check it out HERE , then click "Enable Editing" in the top bar of the Excel sheet.
​
​
PICTISH TIMES and ATHOLL
​
From Houseofnames.com PDF, "The ancestors of the Cruickshank family name are believed to be descended from the Pictish race… which settled in North-East Scotland. The Picts were a tribal confederation of peoples, formed from a number of tribes—how and why is not known for certain. Some scholars have speculated that it was partly in response to the growth of the Roman Empire. They lived in what is today eastern and northern Scotland (before there was a Scotland), north of the rivers Forth and Clyde. The timing is variously reported as a period starting between the Mid to Late Iron Age (400BC to 250AD) and ending in the Early Medieval period (approximately 900AD). They are thought to have been ethnolinguistically Celtic. They spoke the now-extinct Pictish language, which was probably closely related to the Brittonic language spoken by the Britons who lived to the south of them.
​
The Venerable Bede, a historian writing in 731AD, said that the Picts had come from mainland Europe, presumably Scandinavia, to northern Ireland to ask for land, but the Irish sent them on to Scotland. Hence a myth that the Picts were given Irish wives, on condition that they became matrilinear.
As legend has it, an early king of Pictland named Cruithne (who was a son of Cinq) divided his land amongst his 7 sons. While this is difficult to date, one son, Fib, is said to have ruled between 715 and 691BC. Another one of those sons was named Fotla (or Foclaid) who received land including what later could be called northern Atholl. A number of Pictish kingdoms arose, each with its own line of kings; one Pictish kingdom being Fotla (otherwise known as Ath-fhotla or Atholl). Atholl might mean 'New Ireland'. The map called 'Seven Sons of Cruithne' which is found when you CLICK HERE , illustrates the location of Fotla.
​
Written documents of Pictish Kings can be traced back to 312 AD (List of Kings of the Picts).
​
The Pictish kingdoms were frequently dominated by powerful neighbours. One king of Atholl suffered a gruesome fate at the hands of the Pictish overking Óengus [Onuist, or Angus, reigned 729 to 761AD], son of Fergus (Unuist, son of Urguist). This was recorded in the Irish annals under the year 739 AD: Tolarcan mac Drostan, rex Athfhotla, a bathadh la h-Aengus [translated]: " Talorcan, son of Drostan, king of Athfhotla [Athol], was drowned by Óengus." Oengus was from either the area of Angus or Kincardineshire (the Mearns). The Pictish kingdom of Circinn encompassed Angus and Kincardineshire. Two maps on this page illustrate Circinn (on Seven Sons of Cruithne) and Angus and Kincardineshire (on SHIRES from 1890 to 1975) .
​
Kenneth MacAlpin (reign 843 to 858 AD), a Pictish king, united the Scottish kingdom in 843, possibly in response to Viking raids in Scotland. The Viking age was late 700's to mid 1000's. In a major battle in 839, the Vikings killed the king of the Pictish kingdom Fortriu, Eógan mac Óengusa, and the king of Dal Riata, Áed mac Boanta, and many others. Kenneth was son of Alpin thought to be an earlier king of Dal Riata (comprising most of western Scotland and a part of north east Ireland). Kenneth's son, King Donald I, ruled a united Scotland from 858 to 862.
During this period Scotland's main sub-divisions were large regional lordships, known as mormaerdoms or 'earldoms' administered by hereditary rulers (mormaers or earls) who functioned as agents of royal authority, under the King of Scotland. The Pictish kingdom of Atholl became one such mormaerdom. Under a united Scotland, several clans, dating back to a person named Dubdon in the 960's had control of Atholl. This link (click here) gives you the list of mormaers and earls of Atholl.
​
​
MONARCHY and ATHOLL
​
The MacAlpin clan continued ruling Scotland until 1034. Malcolm II (reigned 1005 to 1034) was the last king of the House of Alpin. In his reign, he successfully crushed all opposition to him and, having no sons, was able to pass the Scottish crown to his daughter's son, King Duncan I (reign 1034 to 1040), who inaugurated the House of Dunkeld. Duncan I therefore succeeded to the throne as the maternal grandson of Malcolm II.
Duncan I was also the heir-general of King Malcolm I Alpin (B895-D954), as he was paternal grandson of Duncan MacDonachaidh of Atholl (Mormaer of Atholl from 990 to 1010) who in turn was the third son of Malcolm I. King Duncan I was killed in battle by MacBeth (reign 1040 to 1057), also a grandson of Malcolm II. More about MacBeth in the section about the Murrays (below). Incidently, Lady MacBeth's first name was Gruoch, and she was a granddaughter of an earlier Scottish king, Kenneth III (house of Alpin). I wonder if she was "grouchy"?
​
The ranking of titles (lowest to highest) is mormaer, earl, marquess, then duke. Mormaers tended to be the hereditary line of Pictish kings after Scotland was united. Literal translation of mormaer is "big steward."
​
The 1100's find Atholl becoming an earldom, which is a step up from the previous status of mormaerdom.
The first recorded earl of Atholl was named Matad. Dates of his being earl are uncertain starting around 1130s and lasting until about 1159/69. The overall medieval kingdom of Scotland emerged in the 11th and 12th centuries (that is 1000's and 1100's) during the final phases of the Viking Age. Earls of Atholl continued with different clans including (de) Strathbogie (mid 1200's to 1320), John Campbell (1320) and William Douglas (1341), until Robert Stewart from 1342 to 1367. This Robert Stewart was given earldom of Atholl (in 1342), by his uncle King David II, son of Robert the Bruce.
​
​
Stewart Lineage and the Cruickshank Connection
Gordon Cowan Cruickshank's references (above) to Stewarts also resonates with what I heard growing up; that Cruickshank is a sept of a Stewart clan. My research supports this claim.
Cruickshank is a sept of the Clan Stewart of Atholl. The word clan is derived from "clann" meaning children or progeny, but not family, in the Irish and the Scottish Gaelic languages. According to the Oxford English Dictionary, the word "clan" was introduced into English in around 1425, as a label for the nature of the society of the Scottish Highlands. Sept (Síol) is a Gaelic word meaning "progeny" or "seed" that is used in the context of a clan with members who might bear the same surname and inhabit the same territory; as a manner of distinguishing one group from another. Each of these individual septs may further subdivide into more septs, which may sometimes lead to the development of novel surnames and/or the rise of the family such that it may be considered a clan in its own right. Such septs were common in Scotland, where the clan system was well-developed. Septs could be blood related or simply other families that chose to live under the protection of a clan.
​
The Stewart (Gaelic Stiubhardt) lineage is much more traceable than the Cruickshank name, and may provide some valuable insights. We will look at the Stewarts of Atholl.
This PDF (CLICK HERE) opens the Stewart and Bruce family tree which makes the following paragraphs easier to follow. Zooming in will make it easier to read.
​
​
As Gordon C (above) says, Cruickshanks were guardians of the Stewart lands in east Scotland given to us by the Stewarts, it helps to know the first Stewart came to Scotland from England in 1136, in the reign of King David I (David MacMalcolm) of Scotland (reigned 1124 to 1153). This first Stewart's name was actually Walter Flaad (B1106 or 1110- D1177). Walter was the son of (fitz means "son of") a Breton knight Alan fitz Flaad, so was also known as Walter fitz Alan. Walter Flaad (fitz Alan fitz Flaad) became the first ever hereditary high steward of Scotland in 1157 serving under King David I (reigned 1124 to 1153), then King Malcolm IV (reigned 1153 to 1165), and finally William I (reigned 1165 to 1214). To illustrate, Walter could be called Walter Flaad Fitz-Alan Stiubhardt. (but that would be silly!) The occupation/name Stiubhardt became the last name Stewart. Here is a case where the job became the last name. This means every Stewart or Stuart traces his/her ancestry to Walter in 1157. The spelling 'Stewart' was much later changed to 'Stuart' by Mary (Stuart) Queen of Scots (B1542-D1587) to make it easier for the French to pronounce.
Part of the High Steward's role was managing the King's finances. Medieval financiers used chequered cloths to help them count coins, hence the blue and white chequered band in the High Steward's coat of arms (seen below)
CLICK on underlined words for more information.
CLICK on underlined words for more information.
High Steward Coat of Arms
Generations of Stewarts followed Walter fitz Alan, all with the hereditary role of High Steward serving successive kings of Scotland, and they were known as the 2nd, 3rd 4th, 5th and 6th High Steward in turn. Eventually we get to the 6th High Steward. His name is…Walter! Walter Stewart the 6th High Steward was born in 1296 and died in 1327.
In Walter 6th High Steward's lifetime we have William Wallace (B1270-D1305) and Robert the Bruce (B1274-D1329), both resisting English rule. Robert the Bruce was crowned Robert I King of Scotland in 1299.
King (of Scotland) Robert the Bruce was succeeded by his son King David II who died in 1371 with no heirs. David II's sister Marjorie (Robert the Bruce's daughter) was married to Walter 6th High Steward; and so the son of Walter and Marjorie, Robert Stewart (B1316-D1390), became Robert II King of Scotland, starting the Stewart line of Kings, in 1371. This same King Robert II had previously been the very first Earl of Atholl from the Stewart family, from 1342 to 1367. So we see that Stewarts were earls in Atholl starting in 1342. Perhaps they lived in Atholl earlier, before becoming earls. We conclude that Clan Stewart of Atholl goes at least as far back as 1342.
Incidentally, in 1371, after Robert II inherited the throne, he moved into Edinburgh Castle. The hereditary title of High Steward ended; and thereafter the title of High Steward of Scotland is held as a subsidiary title to that of Baron of Renfrew & Duke of Rothesay, held by the heir-apparent. Thus, currently, The Prince of Wales is High Steward of Scotland, sometimes known as the Prince and Great Steward of Scotland.
​
STEWART, STUART, STEWARD?
​
Which is the correct spelling?
The Scottish-Gaelic spelling is Stiùbhairt or Stiùbhart. This would be the original spelling and is rarely used today.
​
By the time of Mary, Queen of Scots, the common spelling was Stewart. Mary grew up in France where the letter 'w' was pronounced more like a 'v' and so she changed the spelling to Stuart making it easier for the French to pronounce. Mary reigned from 1542 (birth) until 1567.
The spelling Steward, today, refers to the job which became the title. When we say 'High Steward' we use this spelling.
​
​
ROYAL or ATHOLL?
​
Discussion sometimes takes place about whether Cruickshank is a sept of the Royal Stewart clan or the Stewart of Atholl clan, and what is the difference. Referring again to the Stewart and Bruce family tree PDF (CLICK HERE), the first Stewart to become Earl of Atholl (Robert Stewart) went on to become the first Stewart king (King Robert II), so at that point in time they are the same clan. From 1397 until 1437 the earldom was passed to sons and grandson of King Robert II who were not in the Royal lineage, thus developing the Atholl branch, and so establishing the Atholl clan as distinct from the Royal clan. From 1457 until 1629, the earldom passed through generations of a related Stewart branch which pre-dated Robert II, but still originated from Walter, the first High Stewart. It is widely accepted that Cruickshank is a sept of the Stewarts of Atholl.
Apart from the Royal Stewarts (royal house of Stewart), there were three main branches of the clan that settled in the Scottish Highlands during the 14th and 15th centuries (1300's and 1400's). They were the Stewarts of Appin, Stewarts of Balquhidder and Stewarts of Atholl. The Stewarts of Appin descended from Sir John Stewart of Bonkyl (1246-1298), son of Alexander the 4th high Steward. The Stewarts of Balquhidder descended from a great great grandson of King Robert II.
As mentioned, when Robert II became king of Scotland (1371), he moved into Edinburgh Castle. The Earldom of Atholl was not given out again until it was given to his grandson, David Stewart (B1378-D1402) in the year (1398). This is noteworthy because the Wolf of Badenoch (Alexander Stewart, son of Robert II, rather a nasty fellow) did not ever become Earl of Atholl. Although sometimes reported that the Stewart of Atholl clan came from this Alexander Stewart or one of his sons, without an Atholl title it is very unlikely the Wolf of Badenoch or a son would originate a clan; so we should look at the Earls of Atholl instead.
​
Stewarts continued to be the Earls of Atholl until 1625 (a run of 283 years). Presumably, Cruickshank would have become a sept of Stewarts during the period Stewarts were Earls of Atholl; that being between 1342 and 1625, and would have lived in Atholl in those days.
The Clan Stewart of Atholl Tartan.
​
So this is our tartan. As a Cruickshank you are fully entitled to wear it.
The Stewarts remained Earls of Atholl until Dorothea Stewart, heiress to the Earls of Atholl, married William Murray the second Earl of Tullibardine in 1604, and had son (Sir) John Murray in about 1608. In this way the Stewart earldom of Atholl then became the Murray earldom of Atholl in 1629.
Sir John Murray 's son (also John Murray) became the first Marquess of Atholl and died in 1703. In turn, his son (also called John Murray (B1659 -D1724) became the first Duke of Atholl when Queen Anne of Great Britain created that title in 1703. The Duke of Atholl has continued to be a Murray to this very day.
THE MURRAYS
​
A website dedicated to the Murrays, maternal family, and its fascinating history, is found when you CLICK HERE. But, learning what I have about the Murrays, it seems impossible to not include a small section about that clan on this Cruickshank website. My maternal grandmother's (maiden) name was Gladys Murray. You might remember her as Mom Campbell. She grew up on Syndicate Street in Winnipeg, with siblings George, Ruby, and Hazel. I recall hearing how my Mom (Helena Isabelle Magee, known as Isabelle) and my Dad (Charles Norrie Cruickshank, known as Charlie, Chuck, Chas.) met in Winnipeg at the Murray family home. They got together for an evening of playing music. My Granny (Georgina) Cruickshank (nee Norrie) played violin and piano. My Dad played violin. Apparently the Murrays and the Cruickshanks "hit it off" and found they were from the same area of Scotland, the Aberdeen area, with connections to the Atholl area.
​
ORIGIN of the NAME: MURRAY
​
The name Murray is from the Moray Firth in Scotland and the story goes like this.
The Scottish version of the name "Murray" is a common variation of the word Moray, an anglicisation of the Medieval Gaelic word Muireb (or Moreb); the b here was pronounced as v, hence the Latinization to Moravia. These names denote the district on the south shore of the Moray Firth, in Scotland. (See also Map Page, here)
Murray is a direct transliteration of how Scottish people pronounce the word Moray. The Murray spelling is not used for the geographical area, which is Moray, but it became the commonest form of the surname, especially among Scottish emigrants, to the extent that the surname Murray is now much more common than the original surname Moray. See also Clan Murray.
​
During the middle ages the Mormaerdom of Moray was much larger than the modern council area, and covered much of what is now Highland and Aberdeenshire in addition to the modern Council Area of Moray.
The mormaerdom of Moray (Gaelic: Moireibh or Moiraeabh from Celtic Mori meaning Sea and Treb meaning Settlement) had long resisted incorporation into the Scots kingdom, defeating several royal armies in this struggle. Kenneth MacAlpin, a Pictish king, had united the Scottish kingdom in 843. Kenneth was son of Alpin, who may have been an earlier King of Dal Riata (comprising most of western Scotland and a part of north east Ireland. (See also Map Page, here). Moray may have continued as a separate kingdom for a time, independent of the dynasty of Kenneth Mac Alpin. However it seems likely that rulers of Moray were subject loosely to the Kings of Alba, as the Scottish kingdom was coming to be known. Moray acted as a buffer against further Scandinavian penetration from the north, and its rulers were remembered with respect in Scandinavian sources such as Orkneyinga Saga.
Amongst the Scottish kings thwarted by the men of Moray was King Dub (B928-D967), who was killed when his army was defeated at Forres in 967.
There was also strife within Moray, itself. Irish annals record the killing of Findláech (Findlay), son of Ruaidri, mormaer of Moray, in 1020, by 2 sons of his brother Mael Brigte (or Máel Coluim mac Máil Brigti). These 2 sons of Mael Brigte were Máel Coluim (Malcolm) and Gille Coemgáin. Máel Coluim then became King or Mormaer of Moray from 1020 until 1029, when he died. (Both Findlaech and Máel Coluim are styled 'king of Alba' rather than 'of Moray' in one obituary, but this may be an error or exaggeration.) Máel Coluim's brother and successor, Gille Coemgáin is recorded as Mormaer of Moray from 1029 until 1032. In 1032 Gille Coemgáin, was killed along with 50 of his men.
​
Gille Coemgáin's successor, as Mormaer of Moray, and probably also his killer, was his cousin MacBeth (Mac Bethad mac Findlaig), son of the slain Findláech. MacBeth married Gille Coemgáin's widow Gruoch, a princess of the MacAlpin dynasty, and became king of Scots in 1040, after defeating and killing Duncan I of Scotland (Donnchad ua Mail Choluim) in battle. Later sources suggest that MacBeth had a claim to the Scottish throne through his mother, but his Gaelic pedigree, on record only two generations after his death, traces his descent through his father Findláech, and grandfather Ruaidri, from the house of Loarn, Kings of Dál Riata.
MacBeth himself was in turn killed and defeated in 1057. After which, his stepson Lulach, son of Gille Coemgáin, and presumably also of Gruoch, claimed the Scottish throne briefly before being himself killed in 1058. Lulach's son, Mael Snechtai, died in 1085 as 'King of Moray'
Moray resistance to royal rule lingered into the 12th century (1100's). The last ruling member of the dynasty, styled 'king' or 'earl' of Moray, was Óengus (Angus) son of the daughter of Lulach. Mormaer Óengus (Angus) of Moray rebelled and challenged King David I of Scotland in battle, but was defeated and killed at Stracathro in present-day Angus, in 1130 and thus the Kingdom of Moray was destroyed by David I of Scotland. Incidentally, Strathcaro is where Cruick Water empties into River North Esk.
King David I (David MacMalcolm) (B1084-D1153) further responded to this rebellion by 'planting' of Flemish and other Anglo-Norman loyalists bringing feudalism into the area. One such man was Freskin (died before 1171) of Flemish and Norman (or possibly Pictish) origins, to whom all the Murrays trace their ancestry. With Freskin in place, rebels were forced from their lands and the province of Moray was taken under royal control. Freskin was granted lands in the Laich of Moray during the reign of King David I of Scotland, where he built a motte-and-bailey castle at Duffus on the northern shore of Loch Spynie, in Lossiemouth, Morayshire. Freskin's family name became deMoray (from Moray) and later Murray.
​
The Murrays became a wealthy and politically influential baronial family whose power base was located in the province of Moray in northeastern Scotland.
Duffus Castle. The stone-built bailey is a 14th-century addition to the site of Freskin's castle.
MURRAY LINEAGE
​
Andrew Moray (died 1297) (Norman French: Andreu de Moray; Latin: Andreas de Moravia), also known as Andrew de Moray, Andrew of Moray, or Andrew Murray, an esquire, was prominent in the first Scottish War of Independence (1296-1328) against the English. He led the rising in north Scotland in the summer of 1297 against the occupation by King Edward I of England, successfully regaining control of the area for Scottish King John Balliol. He subsequently merged his forces with those led by William Wallace and jointly led the combined army to victory at the Battle of Stirling Bridge, on September 11, 1297. Moray was mortally wounded in the fighting at Stirling Bridge, dying at an unknown place and date later that year, but possibly November, 1297.
Andrew Moray's son, Sir Andrew Murray (B1298-D1338), in 1326 married Christina Bruce (de Brus) who was a sister of King Robert the Bruce, thus connecting the Murrays to Scottish Royalty, pre-dating the Stewart line of royalty.
William Murray, 2nd Earl of Tullibardine (died 1628), married Dorothea Stewart, heiress to the Earls of Atholl, in 1604. In 1629, the earldom of Atholl was granted to their son, (Sir) John Murray (died in 1642). In this way the Stewart earldom of Atholl then became the Murray earldom of Atholl.
​
Next Atholl became a marquessate and Sir John Murray's son (also John Murray) became the first Marquess of Atholl. He died in 1703. In turn, his son (also called John Murray (B1659 -D1724) became the first Duke of Atholl when Queen Anne of Great Briton created that title in 1703. So the Murray's reached the pinnacle of their peerage. The Duke of Atholl has continued to be a Murray to this very day.
The Duke of Atholl is presently the only person in the United Kingdom allowed to raise a private army. This army, known as the Atholl Highlanders, conducts largely social and ceremonial activities, and primarily consists of workers on the extensive Atholl Estates.
​
You can see the family trees of Stewarts of Atholl and Murray's of Tullibardine at the bottom of the family tree, found when you CLICK HERE .
​
Clan Murray of Atholl Tartan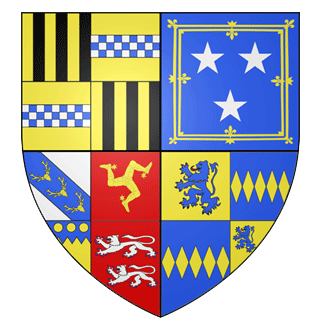 Arms: Stewart-Murray Duke of Athol
So just a pause for a thought: We see that Murrays and Stewarts are related, through marriage and the passing of the earldom of Atholl in 1629. We also know that Cruickshanks and Stewarts are connected, as Cruickshank is a Sept of Clan Stewart of Atholl perhaps as far back as 1342. And finally with my Mom and Dad, Cruickshanks and Murrays are related.
​
ATHOLL TODAY
​
Many remnants of earlier days still exist in the area that was known as Atholl. They include:
Blair Castle:
Seen above, Blair Atholl's most famous feature is Blair Castle, one of Scotland's premier stately homes. The castle stands in Glen Gary, near the village of Blair Atholl, in Perthshire. Blair Castle has been the traditional, ancestral home of the Chiefs of Clan Murray who became Earls (later Marquesses, now Dukes) of Atholl. Blair Castle is said to have been started in 1269 by John I Comyn, Lord of Badenoch (died c. 1275), a northern neighbour of David (de) Strathbogie, the first of the Strathbogie Earls of Atholl (died 1270). John Comyn started building on David Strathbogie's land while the latter was away on crusade. Upon Strathbogie's return, he complained about the interloper to King Alexander III, won back his land, and incorporated the tower that had been built, into his own castle.
In the Jacobite Rising of 1745 (the Forty-Five), Blair Castle was occupied twice by Prince Charles Edward Stuart and his Jacobite army: in early September 1745, for several days, and then in early February 1746, again for several days. However, the Jacobites then unwisely abandoned Blair Castle and Government forces, including Lowland Clan Agnew then occupied it. They held Blair Castle against the Jacobites, who laid siege to the castle during the last stages of the rising, in March 1746. (Blair Castle has the distinction of being the last castle in the British Isles to be besieged.) The Government forces were besieged to near starvation until the Jacobite forces withdrew to fight the British Government forces at the Battle of Culloden, which the Jacobites lost badly.
​
Blair Castle has remained the home of Earls/ Marquesses/Dukes of Atholl, from David de Strathbogie (from 1264 to 1269), through other clans, and the Stewarts (from 1342 to 1625) to Sir John Murray (from 1629). The present day Bruce Murray, 12th Duke of Atholl was born April 6, 1960 and lives in South Africa, returning to Blair Castle once a year.
​
Today, Blair Castle is open to the public for day visitors, public events, functions, and weddings. A link to the interior is found HERE

Atholl Estates:
The land of Atholl Estates contains Blair Castle, plus other commercial interests including farming, forestry, and hydro electric generation. It is 145,000 acres in size which equates to 226 sections or 15 miles by 15 miles (if it were square). They also provide activities for visitors such as land rover tours, tractor tours and pony trekking. The Estates provides some walked up grouse shooting during most seasons, and also runs a small pheasant shoot. Atholl Estates hosts two key public events each year, the Blair Castle International 3 Day Event Horse Show in August and the Atholl Highlanders Parade and Highland Games in May.
​
Blair Atholl:
Blair Atholl (from the Scottish Gaelic: Blàr Athall) is a small town in Perthshire, Scotland, built about the confluence of the Rivers Tilt and Garry in one of the few areas of flat land in the midst of the Grampian Mountains. The Gaelic place-name Blair, from blàr, 'field, plain', refers to this location. In the Middle Ages the main road from Atholl to Badenoch, and hence to the north of Scotland, passed through this village and the Minigaig Pass.
​
Fortingall:
Fortingall is a small village in highland Perthshire, Scotland, in Glen Lyon, at the mouth of Glen Lyon. Its nearest sizable neighbours are Aberfeldy and Kenmore.
Its Gaelic name is Fartairchill, which may be translated as something like: "Escarpment Church", i.e. "church at the foot of an escarpment or steep slope".
Fortingall is one of several legendary birthplace of Pontius Pilate. It is also home to the Fortingall Yew Tree, reputed to be more than 5,000 years old (though recent research suggests its age to be closer to 2,500).
​
Logierait:
Logierait, (Scottish Gaelic: Lag an Ratha - 'Hollow of the [Earth-Walled] Fort/Enclosure') is a village and parish in Atholl, Scotland. It is situated at the confluence of the rivers Tay and Tummel, 0.5 kilometres (0.31 mi) west of the A9 road in Perth and Kinross. Nearby is an ancient ash tree, the Dule Tree of the district from which thieves and murderers were hanged.
Above the village is the site of a major early royal castle, perhaps the 'rath' of the place-name, still marked by a large ditch. This was probably the seat or caput of the mormaers of Atholl. The ancient promontory fort is marked by a huge 'Celtic' cross, a monument to the 6th Duke of Atholl (1814–1864).
The church at Logierait is of early Christian origin, as shown by the presence of two Pictish cross-slabs: one in the churchyard, discovered in or before 1878; the other, identified in 1989, in the church. Both are classified as Class II Pictish stones (dressed stones, relief carving). The church's dedication is to Coeddi, Bishop of Iona in the early 8th century, perhaps the founder of the church here. The present church building, however, dates from the early 19th century, and is protected as a category B listed building.
​
One notable person from Logierait, Atholl, Scotland, was Alexander Mackenzie (B1822-D1892), the second Prime Minister of Canada. He was the son of Mary Stewart (Fleming) and Alexander MacKenzie.
​
LANGUAGES:
I always wondered about the terms Celtic, Gaelic, and Scottish (or Scots) and how these worked together. It seems rather than strictly nationalities, these terms are more language and cultural identifications. The fact that art forms and languages did spread, does not mean necessarily mean people vastly migrated. For example the fact that a lot of people drive Japanese cars does not make Canada Japanese. Here is an explanation of these languages.
​
Celtic languages are a group of languages that were spoken across much of Europe, reaching a maximum distribution around 275 BC. The Celtic Languages have been sub-divided into groups and sub-groups as found and explained on this diagram (CLICK HERE.
​
There are three modern Goidelic languages: Irish (Gaeilge), Scottish Gaelic (Gàidhlig), and Manx (Gaelg).
​
These three are discussed in the following 3 paragraphs.
IRISH (Gaeilge), also referred to as Gaelic or Irish Gaelic, is a Goidelic (Gaelic) Celtic language, originating in Ireland and historically spoken by the Irish people. Irish is spoken as a first language by a small minority of Irish people today, and as a second language by a rather larger group of non-native speakers.
SCOTTISH GAELIC, or Scots Gaelic, sometimes also referred to as Gaelic (Gàidhlig) is a Goidelic (Gaelic) Celtic language, native to Scotland. Scottish Gaelic, developed out of Middle Irish, and thus is ultimately descended from Old Irish roots.
MANX is a Goidelic (Gaelic) Celtic language, originating on the Isle of Mann. Manx died out in the 20th century but has since been revived to some degree.
​
SCOTS
Scots not a Celtic language but is the language spoken in Lowland Scotland and parts of Ulster, Ireland, (where the local dialect is known as Ulster Scots). Scots is sometimes called Lowland Scots to distinguish it from Scottish Gaelic, the Celtic language which was historically restricted to most of the Highlands, the Hebrides and Galloway after the 1500s. The ancestor of the Scots language is called Proto-Germanic—also known as Common Germanic—which was spoken in approximately the middle-1st millennium BC in Iron Age Scandinavia. The Scots language developed during the Middle English period as a distinct entity.
​
Scots Gaelic, and Scots, and Celtic Vocabulary:
​
Auld (Scots): Old

Aber (Celtic / Pictish): Mouth of a river or confluence of rivers

Bairn (Scots): Child-male or female; son or daughter

Ben (Scots): Mountain. Scottish mountains are smaller than Canadian and we might call them big hills in Canada

Beinn (Scots) Large mass of earth and rock

Blair: (Blar in Scots Gaelic) a plain (flat land)

Brae (Scots): Inclined plane, slope, or hillside

Brig (Scots): Bridge

Broch (Brough in Scots): Iron age, dry stone fortified tower

Burgh or Borough (Scots): an incorporated town, having its own charter and some degree of political independence from the surrounding area.

Burn (Scots): Stream

Cairn (Scots Gaelic): Large stone or rock. A pile of stones. A monument or landmark.

Cardden (Celtic / Pictish): Wooded. Found in Kincardine

Ceann (Scots Gaelic): Head or End. Became "Kin" in English such as Kincardine

Ceilidh (Scots Gaelic): A dance, gathering, or party.

Clann: (Scots Gaelic): Clan, offspring, children, family

Crannag (Scots Gaelic): Crannog. A small man-made island, may be connected to mainland by a man-made causeway

Drum (Scots Gaelic Druim): Ridge of a hill

Dun or Dum (Scots Gaeilc): Fort fortress, fortified place, stronghold

Eilean (Scots Gaelic): Island

Esk (Scots Gaelic Uisge): Water

Failte: A greeting meaning "Welcome"

Firth (Scots): Costal inlet (fjord). A long narrow indentation of the sea coast.

Glen (Scots Gaelic Gleann): A steep valley usually between hills or mountains. Likely with a river at the bottom

Holly (Scots Haly): Holy

Inch (Scots Gaelic Innis): Can mean Island or Meadow

Inver (Inbhir in Scots Gaelic): Confluence, usually referring to a river estuary.

Kirk(Scots): Church

Kyle (Scots Gaelic Caol): Strait or narrows. A narrow body of water connecting 2 larger bodies of water

Laich (Scots): Low, flat, lowly. A piece of low lying land

Loch (Scots Gaelic): Lake

Maor (Scots Gaelic): Stewart

Mearns: "The Mearns" is another name for Kincardineshire, means the "the stewardry"

Mercat (Scots): Market. A mercat cross could be found in the market square.

Mor(Scots Gaelic): Great, large, grand, big, high, tall

Mormaer(Scots Gaelic): Great Steward. (later called earls)

Murray (Scots Gaelic Moireabh): A body of water. From the Pictish kingdom of Moray

Orlodge (possibly French Horloge meaning Clock)

Pit, Pitt, or Pett (Celtic): a share or portion of land

Rood (Scots Ruid): "Cross" As in Holyrood (Holy Cross) Castle in the city of Edinburgh

Rood: can mean "Rod" which is a surveyor's measure of 5 ½ yards in length.

Sept: a group descended from, or connected to, a clann

Strath (Scots Gaelic Srath): A valley with a flat bottom

Wee (Scots): Small, little
​
Notes:
Dates: B means birth, D means death

There are several "River Esk"s (Scotland and England) so be careful to look at the right one

Medieval: Approximately 500 AD to 1500 AD

"de" in front of a name is quite common in French. It means "of" or "from". As Normans settled into England and Scotland they often dropped the "de". Example: the last name "de Strathbogie" became "Strathbogie"

Jacobite: supporter of King James (Jacob) VII (II of England) who ruled Britain 1685 to 1689

Being derived from various sources there are a couple of inconsistencies in dates for early Atholl history.

Name spellings vary. Even more in Gaelic because noun endings change with parts of speech in a sentence.

Here is the link for the website of my Mom and Mom Campbell and Murray Tent & Awning: www.clanmurray.family
​
​